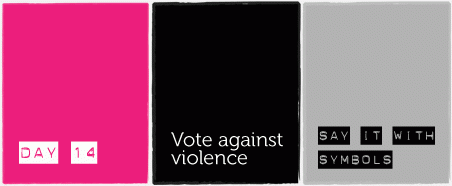 Signs and symbols communicate ideas in powerful ways. They are critical elements of movement building, acting as quick and identifiable signifiers of a common vision and set of principles. When you see the icon of a woman symbol with a fist in the middle, it is immediately understood as feminist. When you put it on a t-shirt or spray it on your bag and wear it, you are claiming the identity and standpoint.
Button badges are an effective vehicle for the communication of symbols, and have a long herstory in women's movements. Attend any gathering, and chances are, you would have picked up a cool button badge or two that calls for support to an issue you believe in. The small size of the button badge means that strong ideas are condensed into a powerful symbol, icon or statement. Which is also why it works. You can wear it anytime and transform a space by catalysing a train of thought or conversation through the strength of its meaning.
Cast your vote to end violence against women today. Say it with a button!
1. What's your vote?
What do you stand for? Vote for it.
As a 16 days of activism action, cast a vote on an issue related to violence against women.
Vote against censorship. Vote for privacy. Vote against cyberstalking. Vote for Take Back The Tech! and more.
2. Draw up your statement
Create a design of your statement
Depending on the badge you want to make, design it according to the size and shape.
We've created a few designs that you can add your own statements and print out. Download them here:
Right click on the image, and select "Save as".
Right click on the image, and select "Save as". Insert your own cause!
Design your own and share them with other campaigners.
You can also use them to button badge your online spaces - put it up on your blog, website etc.
If you have a Twitter account, you can make an online badge and call for supporters using Twibbon. Support the Take Back The Tech! cause on Twibbon. Login using your Twitter account and click "Support".
3. Make a badge
You can create a badge out of many things
The "traditional" button badge is usually a metal button with a design on top and a pin behind it. If you have one of those, you can recycle an old button badge by pasting a new design over it (maybe one that sells a product or brand that you got free from somewhere?).
You can also make one out of bottle caps. Glue a piece of paper with a new design over the top, and stick a safety pin behind using a glue gun or tape. If you want it to last a bit longer, you can varnish over the design, or stick clear cellophane tape over it.
If you feel like investing in a new hobby and make button badges for all occasions, you can get yourself a button badge maker, which is a tool that helps you put the different parts of a button badge together - design, badge, pin and thin plastic cover. Bring it to your next social movement gathering, and you might even be able to raise some funds for the cause you believe in.
Or make it out of cloth. Sew two pieces of fabric together - thick ones are better, such as felt. Stich on your design or draw it out with a water-proof marker, and stick your safety pin on the other side.
Or simply cut out a circle from an old box or used milk carton. Glue your design over one side and stick a safety pin on the other using cellophane tape.
If you have other brilliant D.I.Y. (do it yourself) ideas on how to make a badge, share it as a comment on this page :)
4. Put it on, snap a picture & share it
Upload your designs to share it with other campaigners. Create an account on this site, login, click "create content", then "media" and "attach image" to upload your file.
Take a picture of your badge and share it :)
Put it on and cast your vote. You can even send one to your representative in government.
Let's grow a movement and communicate our stand with a strong collective symbol to end violence against women. Wear your badge. Vote against violence against women!