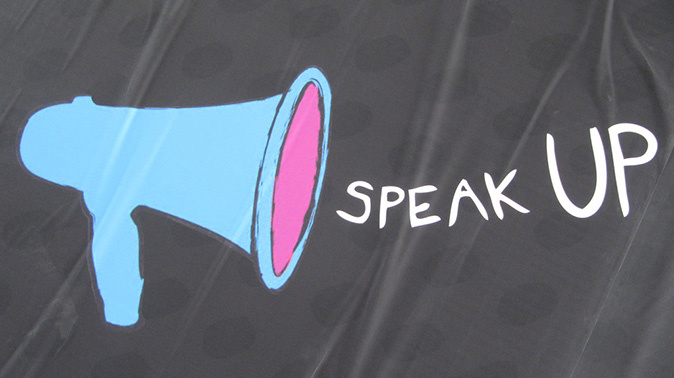 Photo credit: https://www.emergencydentistsusa.com/speak-up/
The world is finally talking about VAW and ICT. Use these talking points and tips when spreading the word about your Take Back The Tech! Campaign.
About Take Back the Tech!
Take Back The Tech! is a call to everyone, especially women and girls, to take control of technology to end violence against women. It's a global, collaborative campaign project that highlights the problem of ICT-related VAW along with research and solutions from around the world, offers safety roadmaps and information and provides an avenue for taking action. Take Back the Tech!'s biggest annual campaign takes place during 16 Days of Activism Against Gender Violence (25 Nov - 10 Dec).
During campaigns, Take Back the Tech! announces actions that combine creative and strategic use of ICT, with the issue of VAW. Campaigners organise actions that respond to their local priorities, such as workshops on online safety, media monitoring on rape reporting, solidarity actions on the streets and in online spaces and discussions on women's right to privacy.
Take Back The Tech! was initiated in 2006 by the Association for Progressive Communications' Women's Rights Programme—a global network of more than 150 women who advocate for women's communication rights—and has grown into a diverse movement of individuals, organisations, collectives and communities.
About the issue
 
Can you remember the last time you went an entire day without using the internet, mobile phone or radio? From education, work, banking and relationships to participation in governance and civic life, we rely on ICT to find information, exchange knowledge, express ourselves and connect with each other.

The digital sphere reflects the same kind of unequal power relations between women and men as that which is the root cause of VAW.

As a result, ICT is often used in ways that compound VAW. Perpetrators of domestic violence use mobile phones to monitor and control their partners, sexual harassment has expanded from streets and workplaces to the internet and abuse of personal data, such as photographs, threatens women's rights to privacy, bodily integrity and freedom of expression.

To change this reality, we must take control of technology and exercise our right to define, access, use and shape ICT on order to transform power relations towards a vision of equality. People all over the world have already begun this important work, and Take Back The Tech! is a call to grow the movement.
About your campaign
Because they are grounded in reality, stories are a powerful way to get us thinking about social issues. They help us connect, understand and care. When communicating the need for Take Back the Tech! in your community, tell a story about how VAW connects with ICT in your context. Refer to Take Back The Tech! digital stories for ideas.
Create a few easy-to-follow talking points around the following:

why you are organising a campaign
the specific issue(s) you will address
the specific challenges on VAW and ICT in your location

 

Write a clear and concise description of your plans, including:

who is participating
what actions you're planning
how many people you aim to connect with
where will your actions take place
If you are speaking to the media, think about what is newsworthy about your campaign, such as important people, current issues, a high number of participants or potential results.