RECOMMENDATIONS FOR LAW-MAKING INSTITUTIONS AND THOSE LOBBYING FOR LEGAL CHANGE
| | |
| --- | --- |
| 1 | Adopt a comprehensive definition of VAW that includes psychological violence and recognises connections between offline and online VAW. |
| 2 | Amend outdated laws that frame women in paternalistic terms (e.g. colonial language of "chastity"). |
| 3 | Recognise women's bodily autonomy and right to self-determination. |
| 4 | Balance rights to privacy, freedom of expression and freedom from violence and harassment for all individuals in constitutional, civil and criminal law. |
| 5 | Include both civil and criminal options, offer means of swift redress and expand remedies beyond the online space. |
| 6 | Extend laws to all who are vulnerable due to gender, including transgender and intersex individuals. |
| 7 | Allocate adequate and sufficient budgets to work on VAW. |
| 8 | Ensure training on technology-based VAW for the police and judiciary. |
| 9 | Build awareness among users, internet service providers and social networking platforms. |
| 10 | Create an enabling environment for women's access and enjoyment of ICTs. |
Learn more:
This infographic draws on the research findings of the APC "End violence: Women's rights and safety online" project funded by the Dutch Ministry of Foreign Affairs (DGIS) based on a strong alliance with partners in seven countries: Bosnia and Herzegovina, Colombia, the Democratic Republic of Congo, Kenya, Mexico, Pakistan and the Philippines.
4 reasons women struggle

to access justice in tech-based VAW
Less than half of reported cases of technology-based violence against women (VAW) are investigated by the authorities.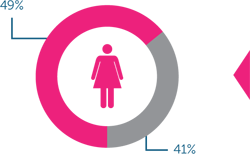 49% of survivors of technology-based violence against women turn first to police/state enforcement authority. However, less than half of those cases are investigated by the authorities (nearly 41%).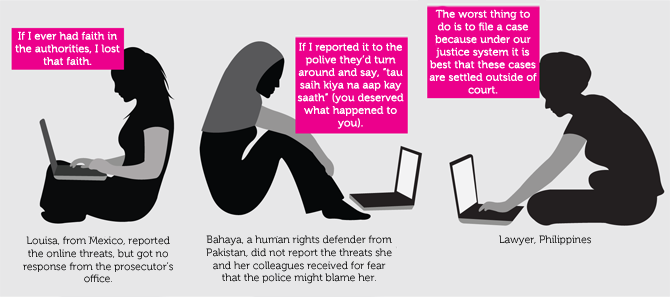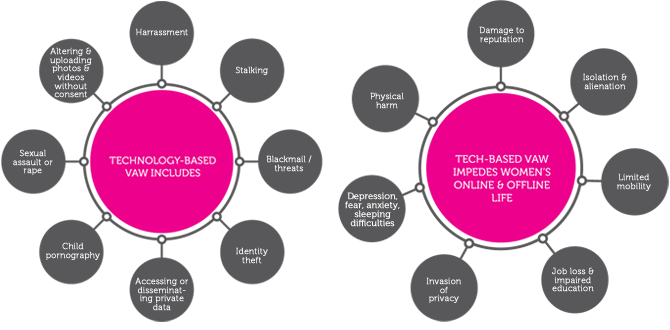 Technology-based violence against women (tech-based VAW) encompasses acts of gender-based violence that are committed, abetted or aggravated, in part or fully, by the use of information and communication technologies (ICTs).

Despite common belief, psychological violence is as damaging as physical violence. Online harassment and stalking often extend from online to offline, and lead to both emotional and physical harms. Mental cruelty and psychological violence are recognised in international law and in most national jurisdictions.
2) The perception that technology-based VAW is a new form of violence and has nothing to do with other forms of violence
| | | |
| --- | --- | --- |
| Technology-based VAW is an everyday event in the lives and experiences of women and girls all over the world. The same forms of gender discrimination that shape social, economic, cultural and political structures "offline" are reproduced, and sometimes amplified, on different digital platforms. | | VAW is not fragmented; it is a continuum. |
Summary of existing laws that may address technology-related VAW

▸

CEDAW RATIFICATION

▸

VAW LAW

▸

CIVIL REMEDIES

▸

CYBER-CRIME LAW

▸

ICT-VAW LAW

▸

GENDER EQUALITY LAW
In most countries existing laws can be used in cases of technology-based VAW.
However, the adequacy and effectiveness of these laws is limited due to:
the absence of a comprehensive definition of VAW that includes psychological and financial harms the perception of VAW a morality issue

narrowing VAW to sexual offences

limited recognition of VAW within cybercrime laws

improper training of the authorities to investigate technology-based VAW a lack of coordination between state agencies

biases of the authorities, including victim blaming
Technology-based VAW is situated within a culture of impunity characterised by gaps between the formal recognition of rights and their effective application. A culture of impunity silences women instead of encouraging them to assert their rights.

The culture of impunity is further aggravated by the following factors: