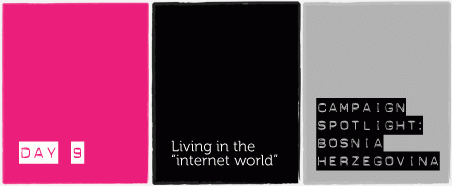 Leila from OneWorldsee Platform shares her digital story and view of the 'internet world' in this video. Leila speaks about online culture, shifting activism from offline to online and what agency and action mean to her on the internet.
Watch her video. Translate it into your own language and share it. Add your own thoughts and reflections on what it means to be part of the "internet world" and be immersed and shaping what is both old and new. Write a journal entry and email, tweet or upload it here.
Take Back the Tech!
-----
A civil society network, OneWorld platform for SouthEast Europe (owpsee) works to speed up democratisation in southeast Europe through using online spaces to build connections and spaces for progressive community organisations, spreading their work between Albania, Croatia, Serbia, Bosnia Herzegovina, Kosovo and Montenegro.
For this year's campaign, owpsee will be handing out fortune cookies in Sarajevo, Bosnia Herzegovina, filled with positive messages for girls and women - love yourself! Be active! Organize! It's just one of the menu of activities owpsee has planned. One of the most timely is the translation and showing of "Budrus", with a discussion by one of the documentary's stars, a young women who helped to defy occupying soldiers and their bullets; but there will also be music, talks on robots and twitter, trainings and presenting new tech solutions for the colour-blind!
Read more about owpsee and Take Back the Tech! here.